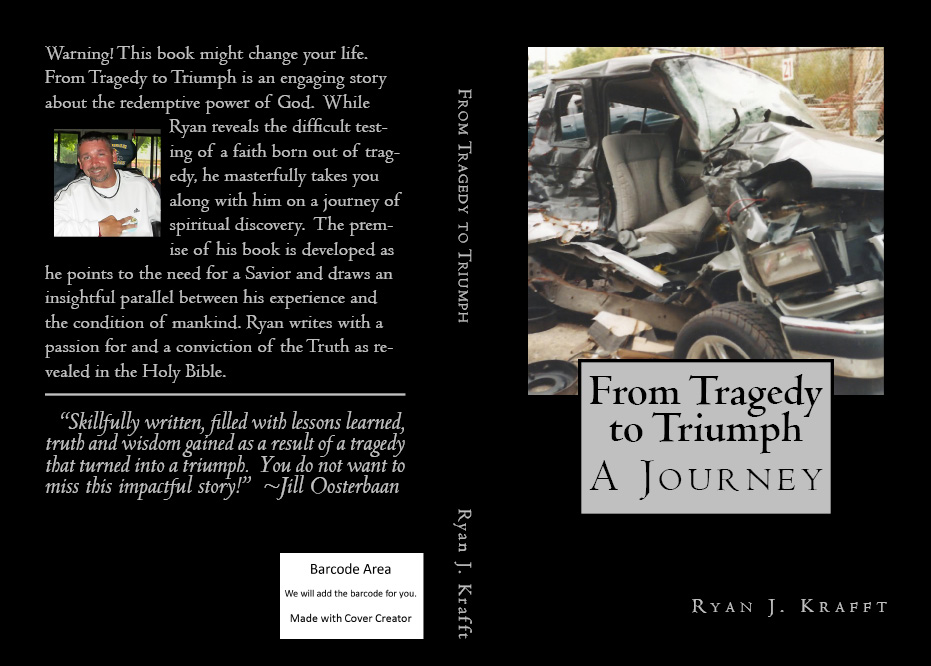 Obviously I am terrible at blogging as it's been more than 3 months since my last submission. On July 26th, the anniversary of the crash, I spoke at the County Administration Building.  It happened to be the smallest audience I had ever spoken to, only two young ladies who were on probation for being in possession of alcohol (MIPs).
I came out of the coma on August 17th, my parent's anniversary, so I've adopted it as my own. On August 16th to celebrate our anniversary we went up to Mount Pleasant. We came home on the 17th and not long after we got home I pulled the trigger and self-published my book "From Tragedy to Triumph" through CreateSpace, the self-publishing arm of Amazon. The real (non-self) publishers that I was investigating were charging around $1,000 to publish a book. Granted that the publisher would promote the book and it would be more widely available. But $1,000? Really? Fortunately, my friend Jill, who edited my book, was doing some research and came across CreateSpace. Through CreateSpace you can publish a book for free and it is available on Amazon. The only drawback is that you have to format your manuscript into a printable version that jives with CreaeSpace. Which I actually kind of enjoyed, since I learned a lot about MS Word and the different things one can do with this program. So for me, while it took time, this wasn't a drawback. But an opportunity to learn. Anyway, so I uploaded my manuscript and cover, which I had loads of fun creating using the site's Cover Creator, on the evening of August 17th. I really struggled with pricing the book, I had several friends and family members suggest I charge $15, and while this would have been reasonable, especially considering the amount of time and effort I put into writing this 265-page masterpiece, this was never about money for me. I wanted to make my book available to those interested, without money being much of an obstacle. So I set the price at a low $11.99. That .99 is a marketing technique that makes a product sound less than it is. While I haven't sold that many copies through CreateSpace or Amazon, I have sold almost two-hundred copies by myself. And I haven't even really been trying. I plan on doing a book signing (autographs only) at Colonial Woods Missionary Church next summer. Perhaps by then I'll have made some corrections and revisions, and I'll have my second edition available.
On Friday, September 2 I had an evaluation at Munger's outpatient physical therapy clinic. The owner and physical therapist, Marcus Munger did the evaluation. I could tell he was a cool cat because he graduated from U of M. So we had that in common! On Tuesday, September 9th I started at Munger's and worked with a PTA, James Towles by name.
On Sunday, September 11 I was blessed to spend time with Massey Campos. Massey used to be the lead singer for a band I liked, Junkyard Prophets. I had connected with him on Facebook like 5 or 6 years ago. Massey is a first-generation American. Both his parents were born and raised in Mexico and immigrated to America as young adults in order to pursue the American dream. He travels the nation passionately educating Americans about the biblical heritage of this nation, and the necessity of preaching the Gospel in honoring the intentions of our Founders. You can find out about his ministry at theselfevidenttruth.com Anyway, I saw this sign in the bathroom (lol Massey has a funny story about that) at Colonial Woods that Massey, who resides in Florida, was coming to the Blue Water area to speak. I knew I'd be unable to make any of his engagements, so I contacted him via fb, and invited him over to hangout. We had an awesome time visiting. He stayed for dinner and my neighbor Marcia Collins, who had seen him speak earlier that morning, came by to drop something off in the door and promptly leave. She was actually leaving, when my mom caught her and said, "Marcia, wait! We have somebody we think you'd like to meet!" So she came in and said, "Massey Campos in your house! How do you rate!" We didn't know she had seen him speak or had any idea who he was. I tried to give him a copy of my book with a promise that he write a sentence or two of praise to include in the second edition, but he insisted that he pay for it to support my ministry.
Friday, October 7th I drug my dad out to see Seventh Day Slumber in Concert at West Haven Baptist Church.
On Monday, October 24th I am speaking at Port Huron Northern High School. On this occasion, for the first time in my speaking career, I will be joined by Crystal Kenny. Crystal is Geoff Harris' little sister. Geoff was killed in the car crash that left me crippled.
On Thursday, October 27th we're going to see MercyMe, Citizen Way and Zealand Worship at McMorran Arena.